Hey guys! Sorry, I'm always MIA. Monster man keeps me busy!! He's 3 months old now! Can you believe it? Well its friday so here is the Friday Fill-In Plus
Five Crooked Halos'
Five Question Friday, Which I've decided to start doing. lol. If I can continue to log on to Blogger. Anyways Link up if you want to join in!
If you wanna join in on the fun just head on over to
Wife of a Sailor
for details and to Link up!!
This Weeks Questions are
If I could be on any reality TV show, I'd want to be on
The Amazing Race, They seem to go on so many fun adventures.
This past Thanksgiving was
The first Thanksgiving in 5 years that I've spent away from Hubby...We've ALWAYS spent thanksgiving together, its the only holiday for some odd reason we've always got to spend together.
I'm looking forward to December because
it's My favorite month of the year! Plus it's Brayden's First Christmas!!
One thing I'd like to accomplish this month is
Catching up on my sleep! That is if Brayden allows. He sleeps well through the night now but I still haven't caught up on my sleep
To me, winter is
not fun. I do NOT like cold unless there's Snow on the ground. lol.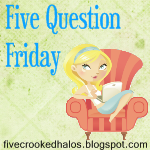 What is your favorite Christmas decoration in your house?
Hmmmm, This would Have to be...My Little Patriotic Christmas Tree. Yes, I have two Christmas Trees, normally. Though since I'm at my moms for this Christmas I only have my little tree. It's a 4' Blue(Literally) Tree, With White Lights and Red and White Ornaments. I LOVE it.
Do you finish your Christmas shopping early or are you a last minute type?
Well, I would say I'm in the middle. I'm not early but I'm not late. I just kinda buy as I go along too. For Example, Every time I go somewhere if I see something I want to get for a gift I throw it in the cart, When I feel like I've finally have bought enough for everyone, I'm done. lol.
When do you turn on your heat?
When it gets Cold, Whenever that is. Yes, It's cold out so The heat is on.
Do you ever wish your blog was private?
Nope. Not many People Know about it Anyways.
Do you put your deodorant on before of after you put on your shirt?
Most of The time it's Before. Sometimes After.
I hope Everyone has a Great Weekend! This weekend will be full of Christmas Festivities for me. Living Windows(cool event, Basically all the downtown businesses in the Capital City have little concerts and stuff in their windows. it's REALLY cool!) and then the Town Christmas Parade Saturday!
Mrs. D